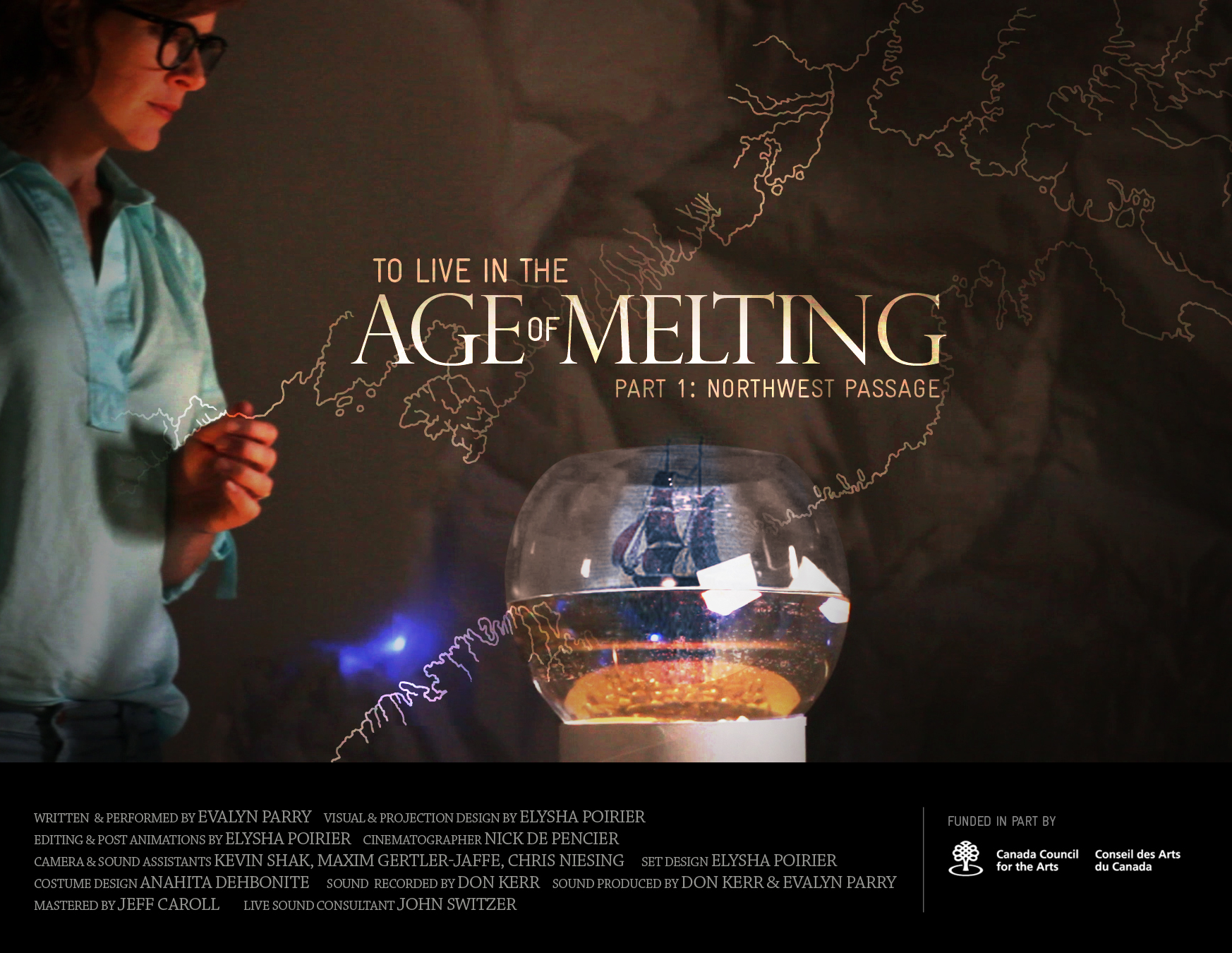 Screening at the lab of the film:
To Live in the Age of Melting: Northwest Passage
Where: Topological Media Lab
When: Friday November 28th
Time: 7PM
Please join us Friday, November 28th at the Topological Media Lab for a special screening of a new film by Evalyn parry (Toronto) and Elysha Poirier (Montreal).
To Live in the Age of Melting: Northwest Passage traverses the territory between live performance and film in a unique collaboration between theatre innovator and musician evalyn parry and visual/projections artist Elysha Poirier.  Taking iconic Canadian folk song 'Northwest Passage' as a point of departure, the film embarks on an evocative visual and sonic journey that travels from Franklin's doomed 19th century expedition to contemporary Arctic sovereignty.  Climate change, the human nervous system, colonial legacy, and 'tradition' are woven into a provocative tale of what happens when the North – and parts of ourselves  – begin to melt.
There will be a short presentation after the film, followed by an open discussion.  This includes the recent discovery of one of the lost ships from Sir John Franklin's doomed Arctic expedition.
Evalyn  Parry
Steeped in the folk tradition but born to innovate,
 evalyn parry's genre-blurring work is
 inspired by intersections of social activism, history and autobiography.  
An award-winning 
songwriter, poet and theatre creator, she's best known for her innovative 
show SPIN – featuring a bicycle played as a musical instrument – which has toured the continent. 
www.evalynparry.com
Elysha Poirier
Elysha Poirier is a visual artist and designer working in various forms of performance, theatre and installation. Her methods in painting and design have been adapted to video for live interaction and scenography. She has performed with a diversity of artists stemming from dance, experimental music, film and theatre and is also a researching artist at the Topological Media Lab (Concordia University) working with students, faculty and international artists focused on movement, experimental philosophy and architecture.  
www.elyshapoirier.com